Reinteract je najnoviji igrač na sceni Python shellova (uz IPython, hotwire-shell i možda još pokoji).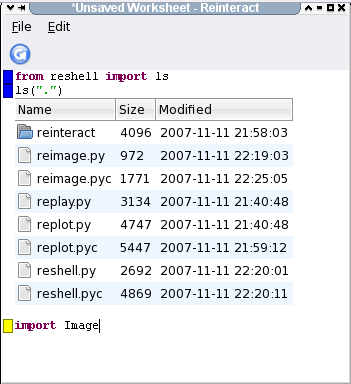 Bilo je samo pitanje vremena kad će netko ponovo otkriti stare ideje i razveseliti gomile python freakova. Cijela stvar je bazirana na GTK bindingsima za python i u principu omogućuje da (kao što se vidi i na gornjoj slici) embedate GTK widgete u Reinteract shell. Istina, gornji primjer embedanja TreeView-a sa listom fileova i nije baš nešto što će čovjeka potaknuti da kaže "wooooooowwww" ali treba uzeti u obzir da je ovo poprilično svjež projekat (danas izašao ako se ne varam). Zato, odite na site, skinite source i napišite nove maštovitije widgete. Meni iskreno rečeno pada par na pamet.
Naravno, Reinteract je dosta dobar i zbog toga što vam omogućuje da se vratite na prijašnje komande, modificirate ih i automatski refreshate operacije koje su se desile nakon. Kratko se igrajući sa cijelim sustavom meni se učinilo dosta korisno i to što možete unositi nekoliko linija python codea i onda ih sve evaulirati odjednom. Obojani kvadratići na početku linije vam omogućuju da raspoznate evaulirani code, code sa greškom te code koji se još nije evaulirao.
Uspio sam uhvatiti tek nekoliko minuta da se poigram s njim (što će reći da nisam ni stigao da pogledam kako sve to izgleda iznutra i da sam više potrošio vremena na pisanje ovog posta nego na samo igranje sa Reinteractom) ali nadam se da me cijela stvar u budućnosti neće previše razočarati te ćete na www.binarni.net moći pronaći neka moja proširenja istoga.