Za one koji ne znaju "Kulturpunkt" je kulturni portal orjentiran na nezavisnu scenu. Ako ste prije voljeli čitati "Nomad" rubrika "Poptika" bi kao mjesto gdje "Tonći Kožul" povremeno nešto objavi mogla biti just the mjesto za vas (da samo vidite kako statistika skače taj dan kad najave njegov članak na monitor.hr-u). Povijest zašto i kako sam ja sve bio angažiran oko ovog projekta je preduga ali trenutno sam kao "the lik" koji radi site i brine se za sve one popratne poslove oko održavanja i supporta. Odgovoran za neke nelogičnosti i glitčeve u siteu zbog nedovoljnog poznavanja CSS-a i povremene grafičke uratke smontirane u GIMP-u (obratite pažnju na crnu slikicu koja kaže REKLAMA u gornjem kutu….a..a.. jelda!)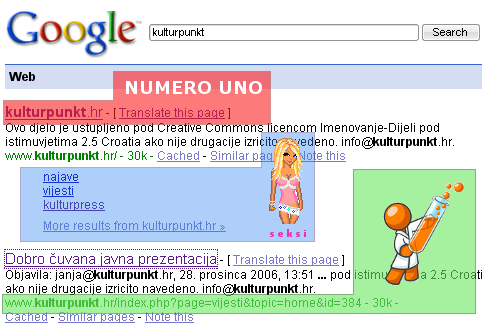 Uglavnom nakon dosta muke i ponajviše mog odugovlačenja prešli smo na novi redesign (koji još nije ni dovršen… da, uskoro tagovi i na vašem omiljenom kulturnom portalu!). Napokon smo FRAME-ovima i Java Script magiji resizeanja rekli doviđenja, nema više stotina malih slikica već je sve čisti text + css, prešli smo na pametnije URL mapiranje (čim nadjem malo vremena i taj će se dio poboljšati), prešli sa mi2 servera na croadriju, stavili CAPTCHA da nas ne spamaju svakojaki botovi, iskoristili neke vanjske sisteme kao što je flickr i google calendar itd.. itd… Bio je to jedan dugi put nečije edukacije i jelte tako razvoja, ali sad su se stvari nekako pročistile na puno različitih mjesta i sve nekako puno bolje funkcionira.
Sve u svemu, nakon dosta godina "a zašto se mi ne vidimo na googleu" su se stvari promjenili. Kad se upiše (ok, ja imam ipak personaliziran google search koji prati što ja inače tražim) ta lijepa hrvatska riječ "kulturpunkt" se dobije ono što se godinama trebalo dobiti! Sreći i veselju među kulturpunktašima nema kraja! To definitivno zahtjeva neko slavlje. Ali to nije sve! Ako pogledate malo bolje vidjet ćete na slici da se sad vide kod searcha i posebne kategorije sitea! Sad si sigurno mrmljate u bradu "super je to Aco, ali što sa svim onim starim referencama na članke na siteu! sad kad si stavio novo URL mapiranje to više neće raditi!". Marljivi umovi u binarnome labu su i tome doskočili na kraj! Radit će isto kao i prije i kao dodati feature će vas redirektirati na novi URL! Pitam ja vas, zar ste više mogli očekivati od vašeg kulturnog portala?!
Eto… uživajte u novostima na siteu a ja uskoro poispravljam i neke bugove i nedostatke koji su se zamjetili.