Moram priznati da mi ni na kraj pamet nije bilo da ću jednom morati pisati ovaj tekst, ali eto. Daklem, Aco nije gay. Dosta davno pišući članak o dobrim starim vremenima kao ilustraciju sam stavio (meni tada) smješnu sliku Splivala i Nikole kako se ljubi s nekim likom. Onako nevino to stavio i pustio na Internet.
Ovo su dvije slike sa tog tuluma gdje se točno mogu vidjeti face aktera iz dva različita kuta. Obratite pažnju na obleku (jakna, majica, rukom drži djevojku iza sebe i dosta jasno pokazuju kakvu jaknu ima na sebi). Daklem…. taj sa jaknom nisam ja. I da se postavite na glavu i dubite!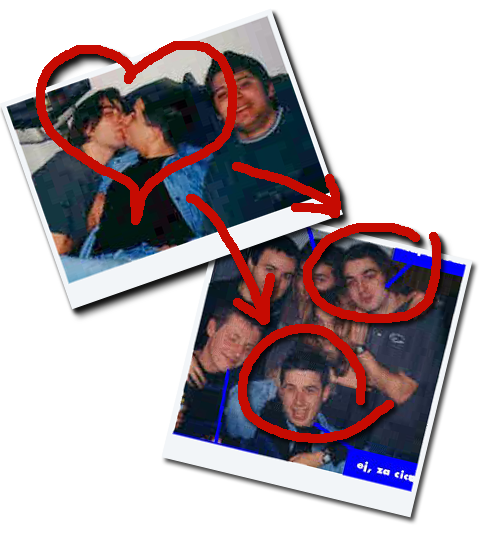 Ono što mi nikako nije palo na pamet je da će pretjerano (po mom nekom mišljenju) velik postotak ljudi misliti da sam ja tu sliku stavio gore zato što sam to ja na slici. Nisam ljudi! To je kao onako smješno, i smijao sam se ja u početku tome ali onda sam u jednom trenutku zamjetio da je nesporazum malo zastranio. Whatever…. to nisam ja na slici i Aco nije gay. Not that there's anything wrong with that 🙂 Nije to baš malarija pa da sam pokupio samo zato što poznam nekoliko gayeva….
Razlika (barem sam ja mislio) između mene u to doba i tog lika je poprilično velika. Možda i nije najveća sreća pokazivati sliku gdje se dva lika grle i govoriti "gle, ja nisam gay!" ali eto. Daklem, na donjoj slici smo ja i Hrvoje Dogan negdje u 90-etima (odatle i obleka i frizura) na INFO-u. Obratimo pažnju koliko je Aco mršav, obratimo pažnju da Aco ima veliku adamovu jabučicu, obratimo pažnju da Aco nema tako nabildana prsa…..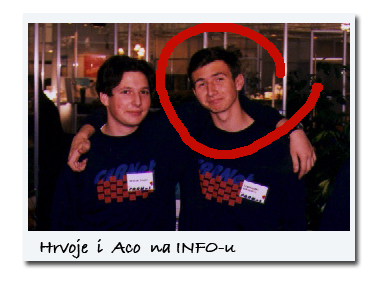 Ne dolazi u obzir da obrišem sliku sa starog posta ali jedno malo upozorenje uvijek dobro dođe. I da… sve je to meni i dalje jako zabavno iako me ta prokleta slika dovela u nekoliko jako nepoželjnih situacija.
Sad.. tko je to sve pomislio da je Aco gay i tko je taj lik na slici i kako sam ja to sve saznao…. ostavimo to sve za neke družijance uživo 🙂