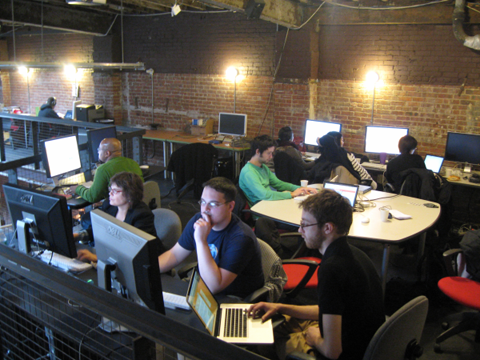 Jedna od stvari koja mi je smetala tokom školovanja (a smeta mi i sada) je što su nas stalno podučavali na softwareu koji nisam mogao slobodno nabaviti i instalirati na svoje osobno računalo. Razumljivo je da nekad nema slobodne/besplatne alternative, u nekim situacijama je proprietary rješenje jedino što će studenti susretati u budućnosti ali katkada ipak postoji mogućnost izbora. Mirkosoft i dosta ostalih proizvođača razumije tu cijelu priču jako dobro pa imaju posebne edicije za studente ali i dalje velik broj rješenja koja se podučavaju nije moguće slobodno ili besplatno dobaviti. Ne treba ni spominjati kako se neka slobodna rješenja uopće ili jako malo koriste u edukaciji. S obzirom da se većina učenika/studenata u životu i neće dalje maknuti od toga što su ih podučili na samom početku edukacije (postati konzumenti proprietary rješenje koja ih vežu za proizvođača) mi iz FLOSS Manualsa smo odlučili malo da se ubacimo u cijelu tu priču.
Daklem, cijeli taj proces zovemo "FLOSSify". Konvertiramo knjige koje koriste zatvoreni software da koriste Free Libre Open Source Software (FLOSS). Knjiga s kojom je to sve započelo je "Digital Foundations" od Michael Mandiberga and Xtine Burrough (http://digital-foundations.net/). Radi se o knjizi koja vas uči koristiti software tako da vas uči dizajnu. Knjiga trenutno koristi alate iz Adobijeve palete proizvoda ali se upravo konvertira da koristi slobodna rješenja (Inkscape, GIMP, KompoZer, FireFox, Scribus, gedit, Processing). Ono što je zanimljivo je da su se autori knjige obratili nama s idejom o konverziji.
Trenutno u prostorijama Eyebeama (http://eyebeam.org/ ; New York) traje prvi trodnevni FLOSSify workshop. Na knjizi radi oko 18 ljudi. Neki su uključeni remote, neki su u prostorijama Eyebeama a neki su samo nenajavljeni banuli totalno nabrijani. Saznali su za projekat na Internetima, čekali da cirkus dođe i u njihov grad i sad sjede sa ekipom, druže se i pišu tekstove po cijeli dan. I to više od jedne osobe (znači, za sad 2). Koji totalni zakon!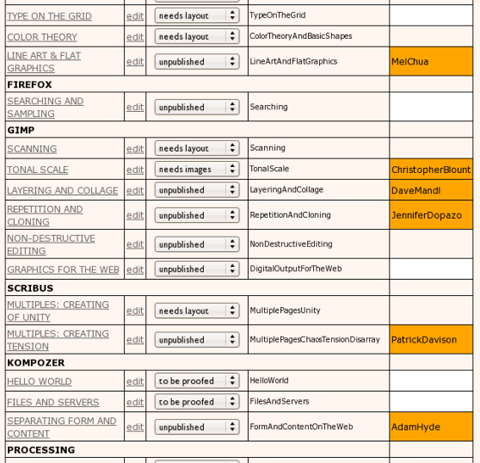 Ovo što vidite iznad je modificirani TWiki koji koristi ekipa. Autori vide Table of contents (koji će se u novoj verziji uređivati na drag & drop foru). Vide koji status trenutno pojedini Chapter ima (ne vidi se ali postoji i status chart gdje se vidi koliki je postatak knjige završen). Sa desne strane (ne vidi se na slici) postoji realtime chat (svi su još i na IRC-u). Također vidi se realtime tko u ovom trenutku editira koji chapter. Za novu verziju ćemo pokušati sve to još više integrirati zajedno. Za ovu trenutku verziju najveći je issue biti upogoniti (ne pitajte zašto ne koristimo mod_perl) na našem ne jakom serveru cgi-bin/perl/twiki sa ajax foricama za više od….. pa 4 korisnika 🙂 Ah ah.. ali sad radi normalno.
Eto.. malo vijesti iz FLOSS manuals svijeta. Ima toga još ali ostavit ću za drugi put.
Više o svemu na:
* http://www.flossmanuals.net/
* http://www.mandiberg.com/2009/01/28/flossify-1-digital-foundations/
* http://gabriellacoleman.org/blog/?p=1256
* http://hackervisions.org/?p=319