Jedan od razloga zašto Franjo Kluz kasni su ovakvi nenadani projekti. Booki (nova Flossmanuals platforma) je u izgradnji ali zbog nevjerovatno velike zainteresiranosti u zadnje vrijeme i velikog broja Book sprintova koji se dešavaju (Španjolski, Firefox, Command line sa FSF-om, PD-ovi…) trebao sam se poigrati malo sa trenutnim chat sustavom. Trenutni chat sustav je neki dummy javascript+php koji su copy+pasteali u flossov editor.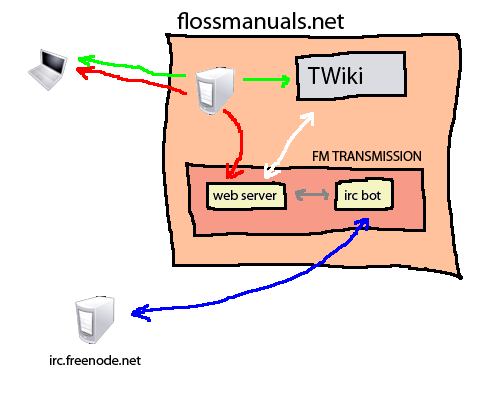 Poigrao sam se tako da sam zasukao rukave i prihvatio se neke prastare ideje koju sam imao prije 6-7 godina (koje god je doba bilo kad sam radio tamtam). Maaaaaaalkice se stvari i izdešavalo od onda ali ideja je za komunikaciju koristiti čisti HTTP koji zaobilazi firewallove, Comet (u to doba sam osmislio Comet kroz Flash koji je bio uspješno implementiran kod igrica za VIP.net) te svakojake gatewayeove prema drugim mrežama (irc, icq i aim tad itd.).
Anywho… demo fino radi s tim da još moram srediti autorizaciju u chat sustav kroz TWiki identitete, TWiki notifikacije u chatu i Comet komunikaciju (i istestirati taj dio malo žešće). Kod demoa sam stavio da se stvari samo sinhroniziraju svakih par sekundi. S obzirom da je Firefox Book sprint sutra i da želimo impresionirati Chrisa Hofmanna (Director of Engineering, Mozilla Foundation) tih par sekundi će biti ok za sad.
Znači, imamo Web chat koji je spojen trenutno na #flossmanuals kanal na irc.freenode.net. Oni koju znaju mogu koristiti irc client dok oni koji ne znaju kako instalirati ili nisu u mogućnosti instalirati irc cliente mogu se preko weba priključiti na chat. Dependency je morao od samog početka biti minimalan, tek flat fileovi i minimalna potrošnja memorije (trenutni stroj je slab, prebacujemo se na novi i ne želimo ništa novo instaliravati od softwarea dok ne dodje novi Booki na kojem radimo).
Stvari koje će biti implementirane:
– Podrška za više od jednog kanala. Tako da npr. svaki sprint ili svaka knjiga ima svoj kanal.
– Podrška za online browsanje historija i za snimanje chatova u wiki stranice.
– TWiki notifikacije u sustavu. npr. "Korisnik David je promjenio status knjige u published.". "Korisnik David je kreirao novi chapter.". Notifikacije se vide trenutno (bitno zbog sprintova) što znači da će neki od naših TWiki pluginova direktno komunicirati sa FM TRANSMISSIONOM a neće se analizirati logovi ili feedovi.
– Upload fileova. Takvi fileovi su vidljivi web i irc korisnicima koji ih mogu lako skinuti na svoje računalo.
– Privatne poruke.
– Mala verzija chata koja se vidi kraj editora i full size koja se može imati otvorena u posebnom prozoru.
– Gatewayevi prema drugim mrežama i sustavima
– Plugin sustav (dodatni gateway na druge mreže, filteri, svakojake dodatne komande)
Imam dosta tih ideja pa ćemo vidjeti što i kako ćemo implementirati s obzirom da imam i neke hitne bug fixeve za ispraviti u postojećem sustavu. Sexy feature čak i u verziji 0.0.10 je da se kod automatskog spajanja na chat dobije odmah back history nekih 30-etak linija pa se može vidjeti diskusija koja se dešavala ili koja se dešava u tom trenutku.
Cijela stvar je prilagođena Flossmanuals potrebama ali lako će se moći koristiti na bilo kojem drugom TWiki based siteu ili samostalno. Sređujemo Trac za Booki pa ću u jednom trenutku kad mi se i bude dalo mučiti sa kreiranjem README fileovea i fileova sa licencama staviti git repositorij na public. U pozadini je python, dedicated web server za komunikaciju sa clientima i twikijem, irc bot, mod_proxy u apacheu da se twiki instanca i url za komunikaciju stavi na istu domenu (zbog javascript security issuea, sessiona itd.) itd… itd…
Mala trivia… Transmission dolazi od (a super mi se potrefilo sa našom skraćenicom FM)….