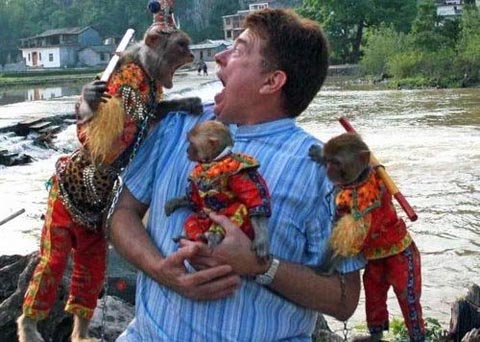 Daklem, http://www.kulturpunkt.hr/ je neki projekat u koji sam uključen dugi niz godina. Iskreno rečeno ne bih se mogao sjetiti kad sam započeo s tim ali zadnjih par godina smo si baš međusobno dobri. Da ne davim previše sa bespotrebnim uvodom – na http://www.teatar.hr/ je izašao članak njihove glavne urednice koji se između ostalog dotiče i kulturpunkta. Link na cijeli članak: http://teatar.hr/15842/blog-reality-check/ .
Meni je taj članak i cijeli moment kukanja oko para totalno zakon. Kužim ja da ona ima problema sa načinom kako se pare dijele. Siguran sam da bih i sam imao riječ dvije za reći da sam nekako izravnije nakačen na tu kravu muzaru od Ministarstva kulture ali isto tako bih se potrudio malo oko svoje argumentacije.
Daklem….. poprilično izravno smo optuženi da kulturpunkt krade krvavo napisane materijale sa teatar.hr ("…ili primjerice Kulturpunkt (40.000kn) koji svakodnevno prenosi naše vijesti."). Mislim, 100 mu gromova draga moja Nora Krstulović!
Gledajući po webu ili iščitavajući linkedin.com čime se Nora bavila čovjek bi pomislio da će kužiti o čemu priča. OK, budimo iskreni, ja tu osobu ne poznam i stvarno nemam nikakvo negativno (ili pozitivno) mišljenje o njoj ali super mi je na osnovu njenog članka i komentara napraviti veza sa stotinama identičnih priča kojih sam se do sada naslušao. Zabavno mi je to.
Pobogu… imamo linkove koji vode direktno na teatar.hr. Neki ljudi to zovu besplatna reklama dok je drugima to izgleda krađa.
Svašta… mislim, što očekivati od žene koje kaže "…nemojte dam vam bude neugodno, nije HTML za svakoga… da je – ne bi programeri stigli plaću zaraditi…". Naravno.. očekuješ da kaže "ivane – gdje ja stadoh – ti produži… mjesta na svom portalu sasvim sigurno imaš, a i resursa, jer za 11 puta manju količinu objavljenog sadržaja (mjerih httrackom) primate 3/5 naše dotacije…".
Nema tu više priče i tu rasprava ne postoji. Njena HTML stranica (pitanje je da li u sveukupni zbroj računa slike i video) je 11 puta veća od njegove a on (zamislite nepravde) prima 3/5 njene donacije. Zovite Batmana jer ovo očigledno nije pravda! Httrack je rekao svoje!
Negdje u ovom trenutku Željko mi je rekao da je ovo bivša Guruova® djevojka…. He he he sad će opet ispasti da serem po Guruu® 🙂 Kako god.. nasmija me njena "argumentacija".