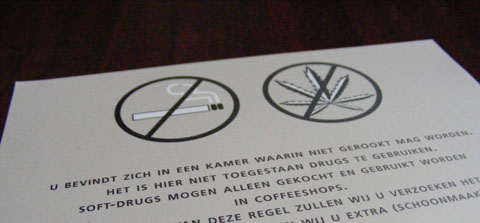 Put me u Amsterdam doveo na prvi svjetski FLOSS manuals sabor. Nadam se, prvi od mnogih u nizu. Iz cijeloga svijeta, sa svih kontinenata (osim Južne Amerike, Afrike i Azije) doteturat će FLOSSaši na par dana druženja i rada.
Moram priznati da mi nakon one nesreće sa Turskim avionom u Amsterdamu i nije bilo baš totalno svejedno kako ćemo sletiti. Malo strepnje i držanja za ruku neke azijatkinje koje je sjedila pokraj mene ali na kraju smo jako lijepo i sigurno sletili.
Anywho, uranio sam ja malo. Odlučio spojiti vikedne sa godišnjim i iskoristiti to vrijeme za druženje sa nekim ljudima u Niskozemskoj. Ugodna domaća indijska večerica, fina belgijska piva, neka nova kartaška igra (u kojoj sam 3 puta izgubio) i onda me otjeralo van. Smjestilo me u neki 200 eura + naplatit ćemo ti i kavu ujutro ali ti zato sviramo klasičnu muziku u hodniku. S obzirom da se sutradan selim u hostel (sa ostatkom ekipe) od 10 eura odlučio sam iskoristiti sve pogodnosti skupog smještaja. Na kraju ću im uzeti sapun i šampone pošto u hostelu toga nema. Nego, dragi André koji radi na recepciji hotela je pomalo izgubljen. Kad sam se čekirao zaveo me pod "Aleksandar Zagreb" koji živi "negdje" u Americi. Nakon mog prvotnog šoka upitao sam ga "Mooooollllliiiim? ah ne.. ne.. to je moja američka visa. Ovdje se na drugoj stranici nalaze se moji podaci." On se samo nasmješio i rekao "Erkalovic mi se činilo kao jako čudno prezime za Zagreb.". Kad ti netko tako nešto kaže u sred Niskozemske naravno da osjetiš potrebu da mu pogledaš oznaku sa imenom. André piše ali svi mi jakodobro znamo da to easily može biti i Andrej.
Nego.. sad par sati sna i sutra nove avanture preseljenja i iznajmljivanja biciklina. Također, sutra se nalazim sa Lovorkom.