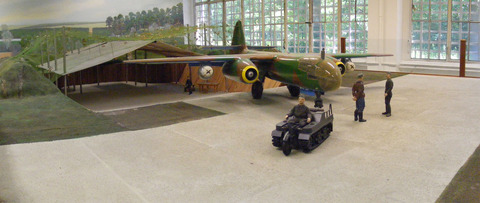 Listajući vodič za turiste prije nekoliko godina vidio sam da se spominje (u to vrijeme zatvoren) Luftwaffenmuseum. Ove godine sam provjerio i ugodno se razveselio kad sam shvatio da je otvoren.
Daklem, uputio sam se u http://www.luftwaffenmuseum.de/.
Truckanje U-banima, S-banima, autobusima i na kraju pješačenje od kilometar i pol. Majko mila. Kad se dođe tamo shvati se zašto ne naplaćuju ulaz. U svakom slučaju, radi se o aerodromu na koji su parkirali oveću količinu otpada. Sudeći po websiteu čovjek bi pomislio da će se tamo naći oveća količina željezarije iz drugog svjetskog rata ali trebao sam i znati kako će to završiti sa Joomla powered websiteovima. Kad se uđe na aerodrom dočeka vas veliki natpis "50 godina Luftwaffea". Da.. dobro ste pročitali – "50 godina!". Dobri stari američki guilt trip nabijan švabama zadnjih 60 godina je učinio svoje. Od drugog svjetskog rata vidio sam – "malu maketu štuke", "kopiju Bf-109 prirodne veličine", "kopiju Me-163 Komet normalne veličine", "totalno razjebani motor od Me-263 koji se jedva može i prepoznati", "totalno uništeni i hrđavi nos od V-2" i "radar FuMG 65". Ono najzanimljivije u Luftwaffeu je tako grozno prezentirano da je meni bilo neugodno. San Diego muzej avijacije ima 100 puta bolje to prikazano. Totalna katastrofa. U Shopu ima za kupiti katastrofalno loše plastične modele (koje su farbali 5 godišnjaci) i neke lutkice medvjeda u avijatičarskim jaknicama. Najviše ima čaša i krigli sa logoima koje ne želite ni vidjeti. Prodaju čokoladicu Mars koja je 30% jeftinija 2 metra dalje na automatu. Totalna katastrofa ali je meni i na kraju cijele balade bilo lijepo.
Slike se nalaze ovdje. Ušasno je jako sunce bilo i teško sam mogao pogoditi neke kuteve u kojima ne bi bilo odsjaja. Kako vani tako i u hali.