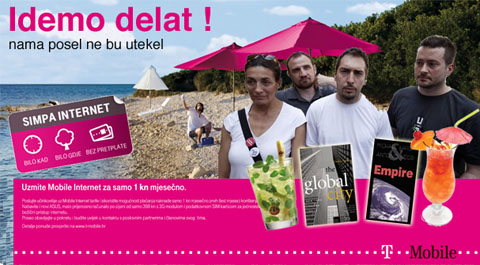 Promemorije se pišu, kupaći se pakiraju, poslovi se maksimalno prolongiraju ne bi li se njima bakćali kolege koji ostaju dežurni u firmi…. Kao i prijašnjih godina, ostajem jedan od rijetkih koji će dežurati u uredu ovo ljeto. Štefica za sve. Zamalo mi (što znači da još nije gotovo) uvalilo preko ljeta neki klikete-klik sa malo drag&dropa u Windowsima i Oracle-u posao. Izgleda da sam se ipak za to borio. Anyhoo, čeka me pred kraj kolovoza krvavo stečenih tjedan dana godišnjeg. Veselim se tome kao i svaki radnik bez klasne svijesti (tako me prozva buduća žena) koji crnči za krupni kapital tijekom godine.
Nego, nije meni tako ni loše…. pomislim si katkad, kako je tek onima koji nikad i ne idu na godišnji. A ima i takvih 🙂
Disclaimer: "Da, mislio sam na društvo sa slike" – da ne ispadne da se sprdam sa većim brojem građana koji nemaju para za ljetovanje. Slika je rezultat ovog članka sa zagrebancije (i novinarove interpretacije onoga što je čuo), facebook diskusije o tom članku (opravdavanje tog ljetovanja koje u stvari i nije ljetovanje već samo priprema za jebenu jesen kad će se ono fakat puno kewl stvari desiti) i nekog mog zapažanja da se do sad svake godine nađe ekipa koja komentira kako "pravo na grad aktivisti idu na more". Sjećam se kao da je bilo jučer, rasprava od prije par godina po virtualnim bespućima interneta o aktivistima koji si sad uzimaju ljetnu pauzu za more. Od neke starije "zelene" aktivističke ekipe koja "zna posao". Kako to obično biva 🙂 Nego.. eto… glupiramo se kao i obično pa ću samo citirati sebe sa Facebooka – "To ti je poput onog engleskog gola njemcima. Svi su vidili gol ali gola nije bilo. Tako i ova pauza za ljetovanje :)".