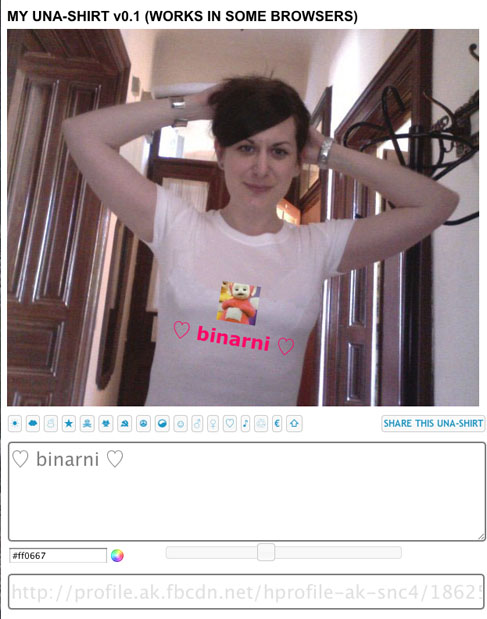 Priča je dosta kratka. Ona je rekla – 'istetovirat ću si "david harvey" na sise majkemi'. On se samo nećkao oko gimpiranja neke njene slike dok ga Goran Zec nije pretekao. Onda je On odlučio napraviti nešto drugo…..
To nešto drugo je UNA-SHIRT generator koji se smjestio na adresi http://broj.binarni.net/una/. Radi najbolje u Chromeu. U Firefoxu se dobro drži. Safari je tako tako… Odabir boja nešto šteka. Verzija je 0.1 i nije me previše briga kako se ponaša na ostalim platformama.
U svakom slučaju, sad je svatko u mogućnosti staviti svoju poruku na njenu majicu! Osim samog teksta može se staviti i omanja slika. Nema skaliranja slike za sada, ali ima drag&dropa na određenu poziciju. Kad ste zadovoljni sa majicom, kliknite na "SHARE THIS UNA-SHIRT" i podijelite svoj uradak sa ostatkom svijeta. Sve što treba je prekopirati dani URL i poslati ga nekom na email ili postati na vašu omiljenu socijalnu mrežu. To je sve.
U glavi mi se trenutno vrti milion fičura i ideja, ali neka to sve sačeka neko bolje vrijeme. Za sad odite na – http://broj.binarni.net/una/.