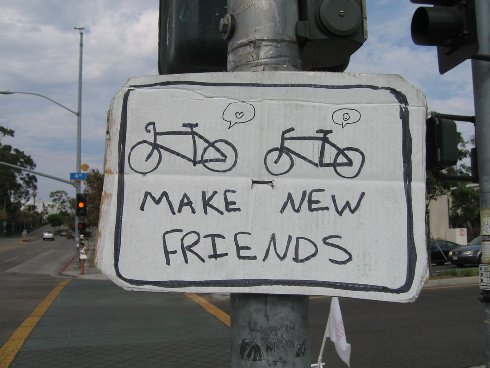 Kao što naslov kaže, Aco traži nove prijatelje. U biti, ne želim kompletno zamjeniti svoje postojeće već želim proširiti krug prijatelja kako bih s vremenom mogao zaboraviti na one stare.
Budimo realni, moji postojeći prijatelji su totalni social dead end. Znam, znam, ljudima je čudno da imam vizitku na kojoj kaže "Aleksandar Erkalović, konzultant za information management software" ali imam ja i onu na kojoj piše "Aleksandar Erkalovic, coding boss". Nije to sad zato što imam ne jednog već dva Maca. Nije to čak ni zato što sam si nabavio uber mali projektor i doma složio mini kino i igraonicu sa Nintendo Wii-em. Nije to čak ni zato što sa svojim japi prijateljima idem na badminton.
Bilo kako bilo, trebaju mi novi prijatelji. Neki kojima ne moram svaki put plaćati piće jer oni nemaju novaca, neki koje ne moram čekati po sat dva da se pojave jer su nezamislivo neodgovorni, neki koji imaju para na telefonu i ne trebaju moju NOKIA E71 samo malo za poruku, neki koji su barem u kasnim dvadesetima… Pa ako znate koga zanimljivog slobodno mi ga preporučite. Naravno, pod uvjetom da bih i ja bio zanimljiv toj osobi (ovo je malo manje važno).
Slobodno navedite kao plus i listu gadgeta koju sam nabrojao.. samoooo pppsssttttt da imam i Sony DCR-SR36 (osim ako se ne koristi kao "e, ima ti Aco baš takvu kameru, trebali bi se vas dvoje naći pa da to sa tvog balkona snimate")…