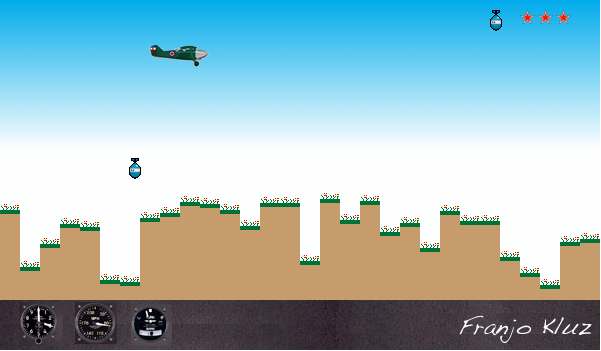 Moja jedina želja otkako sam nabavio svoje prvo računalo je bilo da radim igrice. Druga želja (što sam inače 2 godine kao i studirao) mi je bila da projektiram avione.
To da ću ja raditi jednog dana u Sierri nisam nikad ni dovodio u pitanje. Svuda oko sebe sam ostavljao stotine malih igrica i uvijek je tu bila neka malo kompleksnija avanturica, neke akcione zezalice itd. Nakon pušione sa Multivitaminom, a tome ima valjda 6-7 godina, nisam osjećao više potrebu za tim. Jednostavno mi se to sve zgadilo.
Ali eto, nakom svake kiše dođe sunce pa se i kod mene pojavila opet želje za malo opuštanja kad sam u stresu. Daklem, evo ga…. "Franjo Kluz" prototip moje prve igrice nakon pun kufer vremena. Već sam i zaboravio programirati, sve neka formatiranja teksta u zadnje vrijeme tako da mi je drago da se malo počnem baviti i time. Ovo je više neki prototip da vidim kako se ponaša Canvas, koliko je to sve brzo itd.. itd… Source će biti objavljen pod nekom poštenom licencom i sve što s time dolazi (iako je već sad objavljen, ali dobro). Neću pisati što sve ne radi, čega nema i što će doći jer pametnjakovići to nikad ne čitaju a oni sa malo mozga će znati što verzija 0.01 znači. Zato šaljite mail u svakom slučaju kad skužite da ne radi u Exploreru… šaljite.
Zove se "Franjo Kluz" jer mi je to super ime, imam super priču i akciju koju ću složiti iza svega ovoga. Inače, za one koji ne znaju Franjo je bio oficir kraljevine jugoslavije koji je početkom drugog svjetskog rata završio u ustaškoj avijaciji. Priča kaže da je zbog kockarskih dugova pobjegao sa avionom Potez XXV (inače u igrici ja koristim Breguet 19 s kojim je pobjegao Rudi Čajevec) i svojim strijelcem u partizane.
Dosta davno o svemu tome je snimljen i film Partizanska eskadrila a krajem 2008. započeta i igrica.
Ako želite vidjeti na što to trenutno liči odite ovdje: https://www.binarni.net/projects/franjo/
Više o projektu na:
* https://www.binarni.net/projects/franjo/
* http://lab.binarni.net/wiki/FranjoKluz