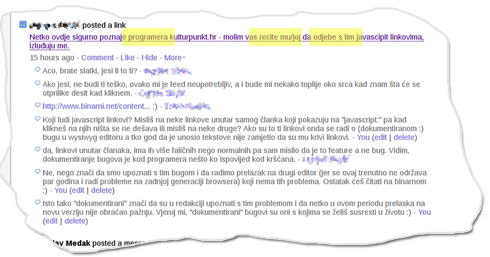 Jedna od neprocjenjivih stvari koju imam od komunikacije sa ljudima koji imaju background u društvenim znanostima, ekonomiji i željezničkom prometu je što se uvijek potrude da mi objasne "što ja to u biti radim". Svačićev trg 1 i Preradovićevu 18 kao mjesto mog prosvjetljenja zamjenio je u zadnje vrijeme Friendfeed. Tako nekako ispada s obzirom na ovaj drugi ulet u zadnjih par dana. Za razliku od Milatovog kopiranja klasičnog njih2 uleta ovaj zadnji je bio ipak ok i izvukao je osmjeh iz mene.
"Netko ovdje sigurno poznaje programera kulturpunkt.hr – molim vas recite mu/joj da odjebe s tim javascipit linkovima, izluđuju me." Napisao je "netko" na friendfeedu. Taj "netko" ima dosta slobodnog vremena pa prekriženih nogu i s rukama u krilu radije voli postati ovakve zahtjeve na friendfeed nego kliknuti na impressum link. Oni su power google reader useri zasigurno pa i ne vide taj link. RSS 2.0 feed direktno u korteks mozga. Matrix spika.
Ako zanemarimu ovu nebulozu da postoji šansa da je žena isprogramirala kulturpunkt.hr ostaje ovaj kriptični dio oko javascript linkova i "odjebavanja". Uključen sam u taj projekat od samog početka i naslušao sam se svakojakih priča o tom projektu, mojoj ulozi unutra i načinima nagrađivanja mog rada ali moram priznati da je ovo jedna od rjetkih situacija koja je izmamila iz mene osmjeh. Pa pobogu, zar sam uza cijelu listu mojih odgovornosti (a vjerujte mi da je to bila zanimljiva lista) u tom projektu sad postao odgovoran i za sadržaj koji unose članovi redakcije. Linkovi u članku su pogrešno uneseni, nisu dodatno provjereni i članak je kao takav bio objavljen. Da li sam ja kao "programer" odgovoran jer se radilo o nepostojećim URL-ovima? Da li bi postojala odgovornost mene kao "programera" u tom projektu da se radilo o nekoj klasičnoj gramatičkoj grešci ili greška mora nužno biti povezana sa nekim tehničkim terminom? Npr. ako je autor članka napisao da je na izborima 45% glasača glasalo za opciju A a 72% za opciju B da li bi se i ovdje povlačila moja odgovornost kao "programera" ili njega kao autora članka. Da mi ljudi na ulici (ili friendfeedu) viču "odjebi sa svojim izračunima programeru/ko"!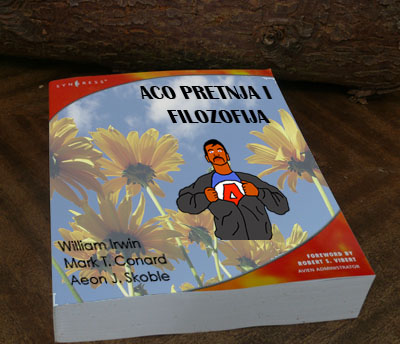 To nas sve dovodi do klasičnog pitanja koje si svaki brucoš filozofije (a možda i komparativne književnosti) pita dok ispija par piva u Krivom putu sa svojim istomišljenicima:"Da li je LAMP (Linux, Apache, MySQL, PHP) kao tehnologija napredniji i bolji od ASP.NET-a". Kažem to jer je index.hr (news portal pogonjen ASP.NET-om ili čime već) prepun gramatičkih grešaka te nebuloznih rečeničnih konstukcija (to name a few). Pitam se pitam što to njihovi programeri rade….
Ah ti Windowsi….