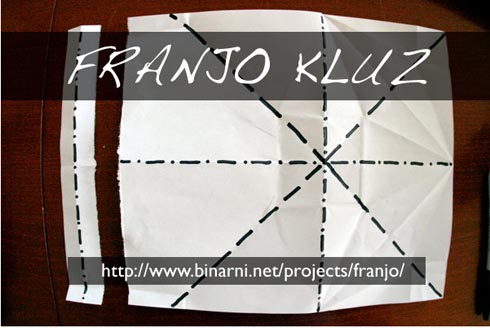 Ideja mi je da verzija Franje 0.10 bude za javnost. Do tada se suzdržite od glupih komentara i savjeta. Ne treba biti Sherlock Holmes da se pročita obavjest koja piše na dnu stranice.
Daklem. Dodao sam na početku upozorenje ako ste korisnik Opere ili Explodera. Ako ste jedan od korisnika Firefoxa koji dobiva katastrofalno loš FPS dobit ćete također malo upozorenje. Upoznat sam sa situacijama gdje Franjo bude neupotrebljiv sa Firefoxom ali moram priznati da me za sad taj problem ne brine. Ne brine me jer nemam Firefoxa gdje to mogu testirati, jer na mojih 10 browsera koje sam probao na različitim platformama sve radi dobro a i brzi google search mi kaže da bi uzrok problemu sa Firefoxom i Canvasom mogao biti negdje drugdje (surprise, surprise).
Postoji još određeni broj bugova koji se mogu odmah zamjetiti ali plan mi je do 0.10 to sve ispraviti. Od novosti imamo:
* sustav menija
* učitavanje mape
* sa Q i ESC izlazimo van
* P za pauzu
* oblaci usporavaju
* univerzalan način hendlanja pozicije objekta => omogućen detection
* game over kad lupiš u zemlju
* bomba i govno padaju dobro
* bomba detektira zemlju
* lubanje u terenu
* nisam htio ali eto, koristim jquery sada
* ispravljeni neki bugovi, nadopisano dosta novih stvari
https://www.binarni.net/projects/franjo/
Slijedeće što ću mijenjati će biti pozicioniranje objekata na teren. Za sad je to obična glupa for petlja na client strani ali plan mi je to prebaciti na server stranu i učiniti znatno inteligentnijim. Za sad je to toliko glupo da katkada treba refreshati ne bi li se dobio teren sa dobro raspoređenim tenkovima i kravicama.
Internet je baš super stvar. U davno vrijeme DOS-a pisao sam neke svoje TSR programčiće da mi snime sadržaj video memorije na disk. Alatići da mi to konvertiraju u PCX ili pitaj boga koji je ono format bio aktualan. Sve to ne bi li se domogao neke grafike koju bih mogao naknadno modificirati za svoje potrebe. Sad odem na advanced search na flickeru, kažem da hoću materijal koji mogu modificirati i eto Aci slike tužnog ćuke. Divno!