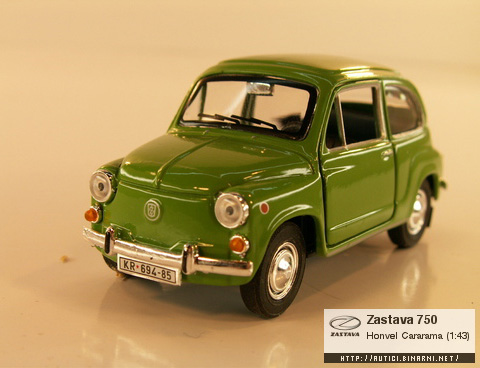 Čekao sam s ovim dodatkom da otac unese određenu količinu modela u sustav. Ima nekih krivo unešenih naziva i duplikata ali to ću s vremenom ispraviti. U svakom slučaju sad na slikama postoji mali žigić sa logom, nazivom, veličinom te URL-om od kataloga.
Slikica se dodaje automatski kod uploada slike ili dodaje putem django management skripti. Malo sam se sa izgledom igrao jedno vrijeme ali ova boja pozadine, količina prozirnosti i mali linkić mi djeluju zadovoljavajuće.
Ovaj katalog nije ništa specijalno (što i dalje ne znači da bi ga svaka šuša mogla napraviti) ali za ekipu koja se bavi skupljanjem modela automobila ovo je i dalje svjetlosnim godinama bolje od bilo čega što oni imaju ili će imati u skorije vrijeme. Postoji neka šansa i zainteresiranost da i drugima ponudim hostanje svojih kolekcija na katalogu ali za to nemam interesa ni vremena. Ako je netko zainteresiran pokrenuti usko specijalizirani katalog modela automobila/aviona/brodova/kućica/vlakova eto mu ideje. To je ekipa koja će rado platiti godišnje neke novce da stave sve svoje autiće online.
http://autici.binarni.net/