Da je rasprava uživo bila zanimljiva kao na twitteru mislim da bi panel o web frameworcima na IT showoffu mogao na kraju na nešto i ličiti. Twitter je postao svakodnevica takvih događanja i zato su organizatori u salu stavili da se preko projektora prikazuju zadnje twitter poruke.
Za vrijeme predavanja uvaženog gospodina Ratka Mudavdžića iz Microsoft Hrvatska (Microsoft Azure Platforma – Cloud Computing na Microsoft način) netko je poslao poruku uvredljivog sadržaja. To i ne bi bilo toliki problem jer se sam tekst poruka zbog veličine fonta nije mogao ni viditi da nepoznati saljivdžija nije za profile stavio popriličnu vulgarnu sliku velikom muškog spolovila.
Ljudi su se smijuljili….pa malo jače… pa još malo jače ali fini gospodin Mudavdžić samo se kratko osvrnuo na pokušaj šale i nastavio pričati o zadnjoj ponuditi velikog Microsofta.
Tijekom konferencije mogao sam zamjetiti u različitim situacijama što je to točno MS community i što svojim članovima znači. Nedugo nakon pokušaja šale jedan od Microsoftovih dronova poslao je novu poruku ne bi li sa platna što prije nestala oveća slika također ovećeg muškog spolovila. Šta ti je community i sigurnost koju ti isti pruža.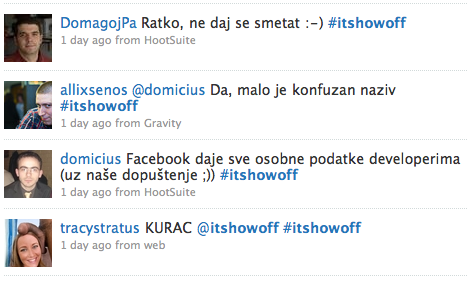 Naravno… nakon ove prve šale izredalo ih se još nekoliko…. Npr. netko je postao sliku Charles Mansona…. itd…itd…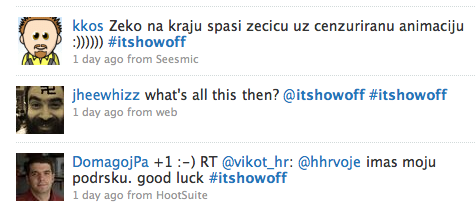 Anyhoo.. slijedi cenzurirana slika onoga što je postano. Budite svjesni da je NSFW. Ako želite pogledati ostatak poruka odite na twitter.
Mislim da ne treba navoditi da ja nisam idejni organizator/izvršilac niti jedne od ovdje spomenutih šala. Vidio uživo i poslije našao na Twitteru i Googleu kao i svi drugi koji su bili tamo prisutni…