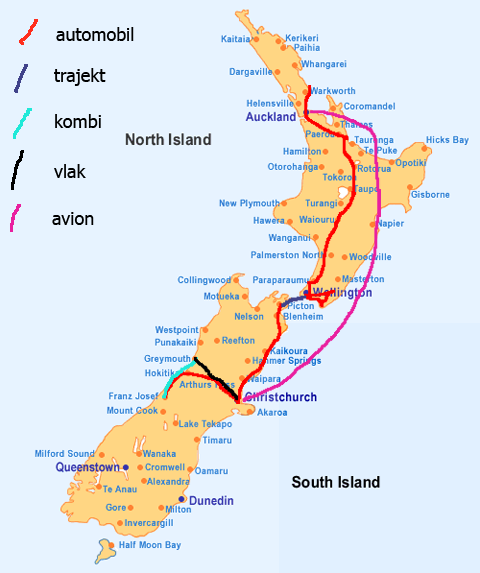 Vratio sam se sa Novog Zelanda. 19 dana putovanja (proveo sam noć u Londonu) i 15 dana Novog Zelanda. Proputovao sam sjeverni i južni otok i u ne baš previše dana vidio dosta toga. Na mapi su označeni (onako odokativno) pravci i prijevozna sredstva koja sam koristio.
Vidio par nepoznatih životinjskih vrsta, vidio dvije nepoznate vrste kako vrše nuždu, ubolo me i nasisalo se krvi par nepoznatih vrsta, saznao da possum i opposum nisu iste životinje, kupio čarape i rukavice od possuma, popeo se na najvišu zgradu južne hemisfere, plivao oceanom pokraj raži u nacionalnom parku, isprobao oko 30-40 novozelandskih vina, isprobao oko 30 (meni) novih vrsta piva, isprobao 5-10 različitih vrsta ginger beera, vidio zvjezdano nebo južne hemisfere, vidio gejzire, skoro vidio glečere, zamalo vidio kitove i pingvine u prirodi, vozio se TranzAlipine vlakom ("one of the world's great train journeys for the scenery through which it passes"), shvatio da nemaju toliko ovaca više kako smo učili u školi, vidio farme srna i ljami, vozio se u trajektu preko oceana dok su bili 3 metarski valovi (što je meni definitivno rekord), bio na nekom performansu, bio na koncertu eksperimentalne muzike, vidio gdje je piće L&P nastalo, bio u Springfieldu, bio u muzeju Avijacije, bio u muzeju Pomorstva, …
Više uskoro slijedi….