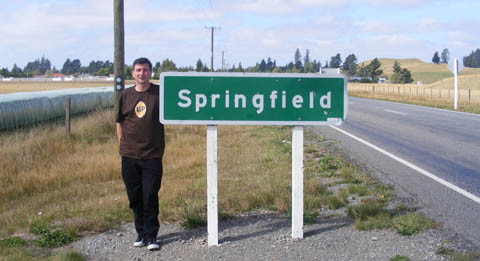 Na putu od Christchurch-a do Franz Josef-a prošli smo kroz jedno malo mjestašce Springfield. Mjestašce od nekih 200-tinjak stanovnika. Nekoć davno bilo je bitna željeznička postaja a danas samo usputna stanica za TranzAlipine vlak. Mala željeznička stanica sa simpatičnim kafeom prepunog fotografija koje podsjećaju na blistavu prošlost.
Kao veliki ljubitelj lika i dijela Matta Groeninga morao sam zastati u gradiću.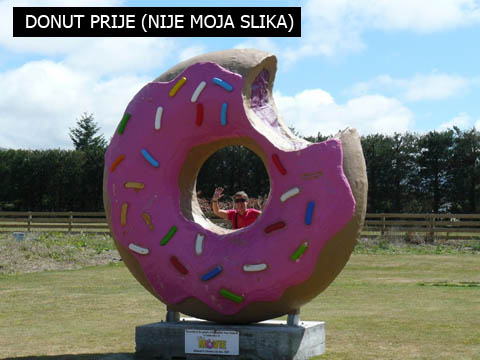 2007. "20th Century Fox" je u svrhu promocije svojeg novog filma "The Simpsons Movie" donio donut promjera 3.5 metara i postavio ga u središte mjestašca. Cesta kroz Springfield vodi dalje ka "Arthur's Pass" nacionalnom parku i zapadnoj strani južnog otoka. Prometna je to cesta i tisuće turista bi se znale zaustaviti u Springfieldu zbog slikanja sa donutom. Bio je to veliki boom za lokalnu ekonomiju (ipak imaju jedan kafić, jedan restoran i jedan hotel). Gradske vlasti su odlučili da donut ostane u gradu zauvijek (trebao je ostati samo 6 tjedana).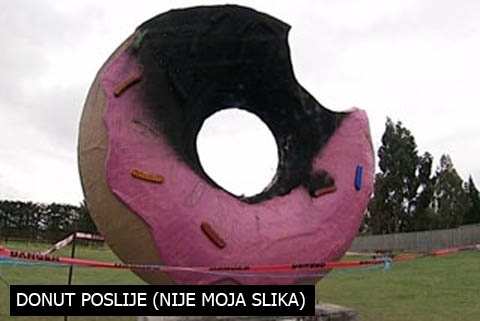 Naravno, nisu se svi složili sa tom odlukom. Farmerima je smetao velik broj turista u mjestu. Neki nisu željeli da se dovode u vezu sa disfunkcionalnom američkom obitelji. Bilo je i onih što im smetaju američke kompanije koje si uzimaju za pravo stavljati donute ljudima u dvorište. Bilo kako bilo, donut je prošle godine zapaljen. U okrilju mraka nepoznati počinitelj zapalio je dio donuta.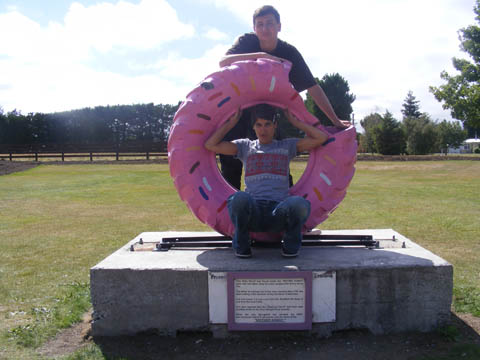 Nisam otišao na drugi kraj svijeta da ostanem bez svog donuta. Tako su za meni slične turiste neki lokalni mještani (sigurno vlasnik hotela ili birtije) podignuli novi donut. Na slici ja i Laleh uz ofarbanu traktorsku gumu. Hoću reći…. donut.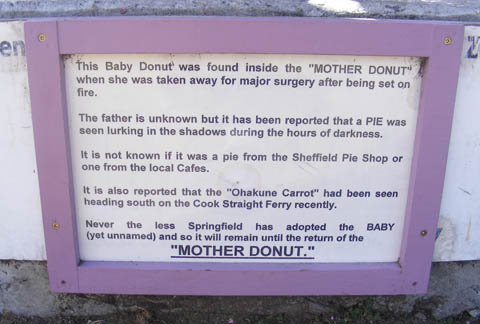 Smislili su oni i veselu pričicu.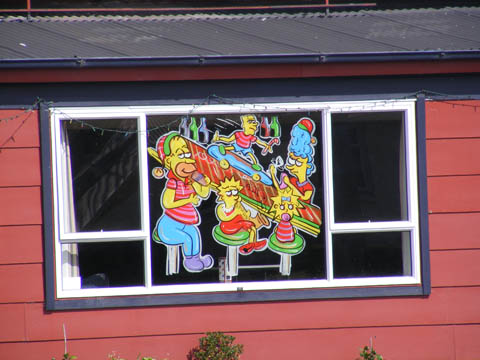 Pretpostavljam da bi ih tužio "20th Century Fox" da su imalo vjerniji orginalu od ovoga.