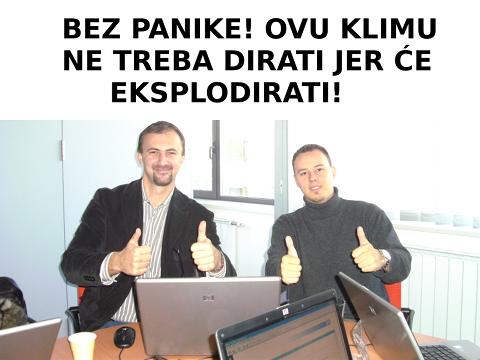 Scenario je dosta jednostavan. Čistačica je dobila naputak da obrati pažnju da sve klime nakon radnog vremena budu zagašene. Kako to obično biva, ona je razvila svoj sustava provjere. Ide od sobe do sobe, stisne on/off button i u zavisnosti od zvučnog feedbacka produži dalje ili još jednom pritisne button da se klima ugasi. Naime da, u zavisnosti da li se gasi klima ili pali ona proizvede drugačiji zvuk. Ova operacija je našoj čistačici, za razliku od pukom pogledavanja na LED display klime, znatno lakša za obaviti.
Sve bi to bilo ok da taj njen sistem ne pobrka naš timer koji postavljamo. U sobi od ranog jutra budu paklene temperature (zadnji sprat, veliki prozor koji gleda na istok itd…) i jedan od načina kako tome dolazimo na kraj je da podesimo timer da se klima upali u 7 ujutro. Sve u svemu, napravili smo malo upozorenje za našu čistačicu nakon što smo par dana debugirali klimu i pokušavali shvatiti što se s njom dešava.
Naravno, kakva bi to IT firma bila kad bi printer u boji radio kako spada. Zato sam ovaj prvi draft upozorenja za našu čistačicu morao printati na crno bijelom laseru.